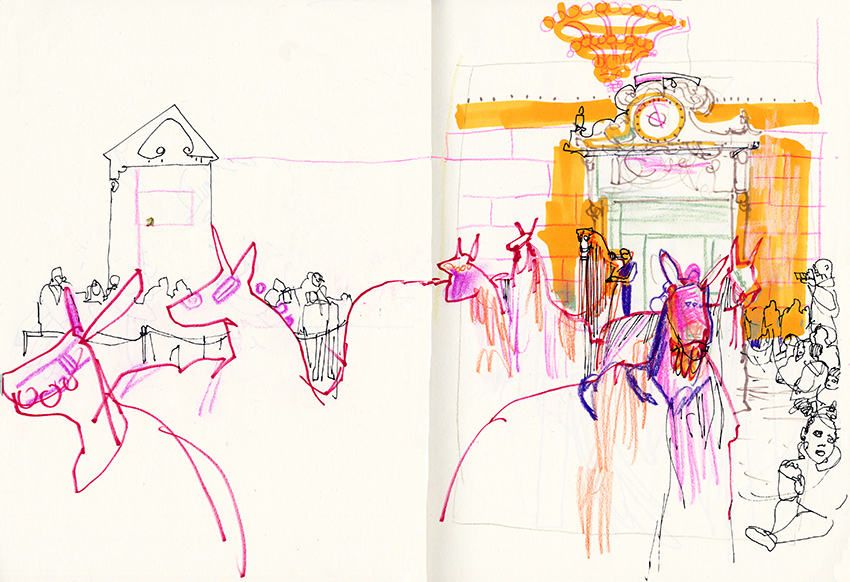 As you may have seen a few days ago in Melanie Reim's gorgeous drawing post, last week in New York City we had the special treat of seeing Nick Cave's HEARD! horses galloping around Grand Central Station. It was a beautiful spectacle, and the best part for me was that they really geared it to the kids. The raffia horses with the Tibetan/Mongolian inspired headgear were on display all week at the train station. Twice a day the Alvin Ailey dance company wore the costumes and performed for about twenty minutes. I arrived a half-hour before the show, and the place was crowded. There were special roped-off sections for the children to watch the show.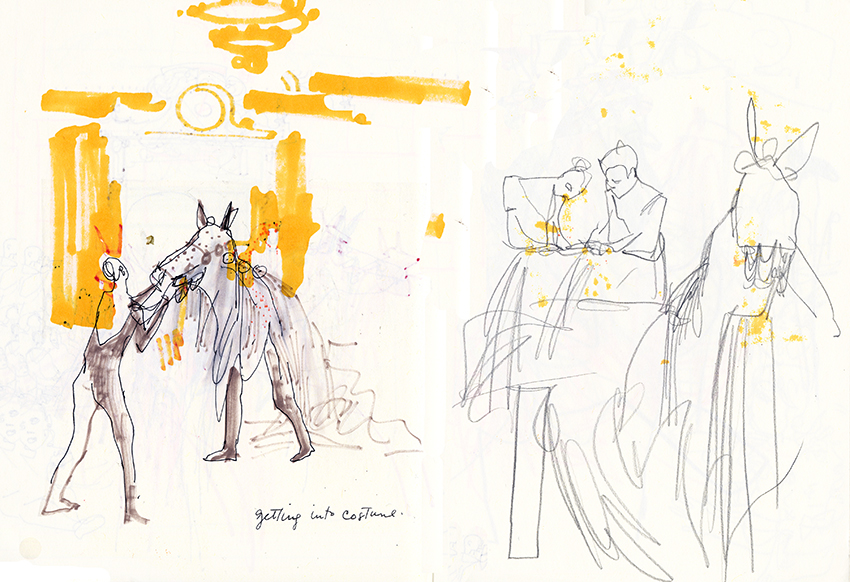 The performers walked out and removed the costumes from the wooden stands and put them on. One dancer for the front to lead, and one for the back end to follow. I loved how the mechanics of the performance were very open. The dancers seemed excited to be there. Once the costumes were on, the horses moved gracefully in a circle to the sounds of the harp, played live for the performance. They lingered by the children's area, ready for all the little hands that reached out to touch them. It was so sweet to see the happy little faces of the children. None of them seemed afraid at all, they were really enchanted by the animals.
Then suddenly the harp was replaced by an African drum, and the whole feeling changed! The horses broke in two and the back ends, following the fronts up until now, were free to go wild and do there own thing!
Which they DID! There was a feeling of total anarchy as the little straw back ends shook and danced and went in every direction, while the horse fronts galloped around them, containing the energy. It was really fun to watch the freedom of the dancers. The kids loved it, and so did the adults!
BREAK OUT!!!!!
Anarchy and kids always go well together. 🙂
Then it all quieted down again.
The performers took their bows,
leaving the costumes propped up in a stately way to be viewed.
What a
nice afternoon on a holiday week in New York City. Thanks Nick!